The Best of Exmoor
Underway, West Porlock
Porlock
7
Guests

4
Bedrooms

3
Bathrooms

Sorry,
No pets
Underway in West Porlock is a beautiful detached property in an enviable position with breathtaking views of Porlock Bay. This delightful holiday property is presented to a very high standard offering comfortable bedrooms and spacious living areas for up to 7 guests.
---
---
The region
West Porlock is situated about half way between Porlock and Porlock Weir, approximately 3/4 mile to each.  At Porlock Weir there is a pub, restaurant, take away, tea rooms and other individual shops, well  worth a visit.

The village of Porlock boasts three pubs, two grocery sh...ops, a traditional local butcher, chemist, cash machine, petrol station, hardware shop, visitor centre and a range of independent restaurants, shops and tea rooms.

Many of the shops in Porlock Weir and Porlock are open during traditional hours of 9 am to 5 pm, although hours are often extended during the summer season. Conversely, some shops also reduce their opening hours out of season. Please support our local traders.

Minehead is the nearest town, approximately 6 miles  Here you will find the larger supermarkets and petrol stations (Tesco and Morrisons are both situated on the outskirts of the town and have long opening hours and petrol stations), most major high street banks with cash machines, plus a range of other shops throughout the town.
+ More
PUBS AND RESTAURANTS (AND A CINEMA!)
Confusingly, the two best known pubs in the immediate vicinity are both called "The Ship". Locally, the one in Porlock Weir is known as "Bottom Ship" (http://www.thebottomship.co.uk/), whilst that in the village is called "Top Ship" (http://www.shipinnporlock.co.uk/). Food at both is very reliable. Both are popular – Bottom Ship particularly so at lunchtimes in Summer, and Top Ship for evening meals throughout the year, for which booking ahead is probably worthwhile.

Also at Porlock Weir is "Locanda" (www.locandaontheweir.co.uk). Previously called "The Café", this restaurant is now under new management (as of Spring 2018) and serves good Italian food, including excellent pizzas. It's relatively small and residents get priority so booking is probably advisable. Another option in Porlock Weir is "Ziang's". Physically unprepossessing, located in the row of lock-ups at the end of the harbour, it serves Malaysian street food, which may seem a strange choice for Exmoor, but which is always excellent and is best enjoyed sitting on the outside tables overlooking the harbour, although we understand that there is now also some indoor seating. The outdoor seating area is shared with the adjacent Harbour Gallery and Café which does very good sandwiches and cakes. There's absolutely no problem in sitting in a group at a table and mixing and matching where you get your food from.

Porlock village contains numerous teashops and cafes, fish and chips at Piggy-in-the-middle, as well as the Lorna Doone Hotel where we have always eaten well in the past. The Big Cheese, which provides the cakes we leave for guests, also serves light refreshments.

Slightly further afield, Reeves in Dunster (www.reevesrestaurantdunster.co.uk) is probably the best restaurant in Somerset and Cross Lane House (www.crosslanehouse.com) located in Allerford just a mile or so from Porlock on the main road to Minehead also provides fine dining on Thursdays, Fridays and Saturdays. Booking ahead is often essential at both Reeves and Cross Lane House.

One other favourite of ours is The Oak Room in Lynton (www.theoakroomlynton.co.uk). Excellent Tapas and very convenient if you are planning a trip to the cinema in Lynton (www.lyntoncinema.co.uk) which we can also thoroughly recommend and which provides an experience completely different to the typical modern multiplex!

WALKING

Exmoor and the North Somerset and Devon coastlines provide wonderful areas for walking. The long-distance Southwest Coast path and the Coleridge Way are both easily accessible from the House (see below) and there is a great variety of terrain to explore, from the hills and valleys of the moor to the cliffs and bays along the coast. Footpaths and bridleways in the area are mostly very well signposted. The bookcase in the lounge contains a number of books with suggestions for walks. Please feel free to use these, but do remember to return them to the shelf. The notes below relate to particular routes which you might find useful due to their closeness to the house:

Accessing the Coleridge Way

The Coleridge Way, a long-distance path from Nether Stowey to Lynton, passes through the woodland just behind the house. It can be accessed by leaving the house and turning left along the road towards Porlock Weir. After only 150 yards or so, you will see a signpost on the left indicating a path going slightly uphill between houses and gardens. After a couple of hundred yards this reaches a crossroads with the Coleridge Way, at which you can turn left and walk towards Porlock Village where the path emerges at the foot of Porlock Hill, turn right and head towards Porlock Weir, or – for the energetic – head straight on and climb up through the woods, crossing the toll road a couple of times and emerging on the open moorland at the top of Porlock Hill. 

Accessing the South West Coast Path

The South West Coast Path can be easily accessed from either Porlock Village or Porlock Weir, but can also be reached from the house by turning right along the road towards Porlock village and then, after about 400 yards, turning left along the signposted path through farmland towards the coast. On reaching the coast path (probably about half a mile) turn left for Porlock Weir or right for Porlock village.

Porlock Weir to Culbone Church

From Porlock Weir (which can be reached on foot in fifteen or twenty minutes or by car in a couple of minutes) it takes forty-five minutes or so to walk westwards along the Coast Path to the remarkable Culbone church – the smallest church in the country still in current use, tucked away in the woods above the coast and to all intents and purposes inaccessible other than by foot. The path – again well signposted – can be accessed by walking up the steps at the side of the Anchor Hotel in Porlock Weir.

Porlock Village to Bossington

From the centre of Porlock village, Sparkhayes Lane eventually turns into a footpath that goes along the side of a couple of fields before emerging in the marshland along the shore. If the tide is low the shingle barrier that forms the coastline can be reached by virtue of  a boardwalk which has recently been built – but beware: at high tide this can be submerged! Instead of heading out along the boardwalk, you can turn right and access a network of footpaths – all well signposted – which link Porlock with Bossington, a chocolate box hamlet with highly recommended tea gardens.


Elements of all of the above routes are encompassed in a five-mile walk, which can be started from the house, the route of which was published recently in the Western Morning News and which is included in this information pack. This and other suggested walks in and around Porlock itself can be found on the Porlock Manor Estate website (http://porlockmanorestate.org/Pages/Walks.html).



Recommended transport links
Airport
Bristol or Exeter
ferry port
Portsmouth or Plymouth
More tips on how to get there
Full arrival information will be provided once your booking has been paid for in full.
Weekly price trends
Property Photos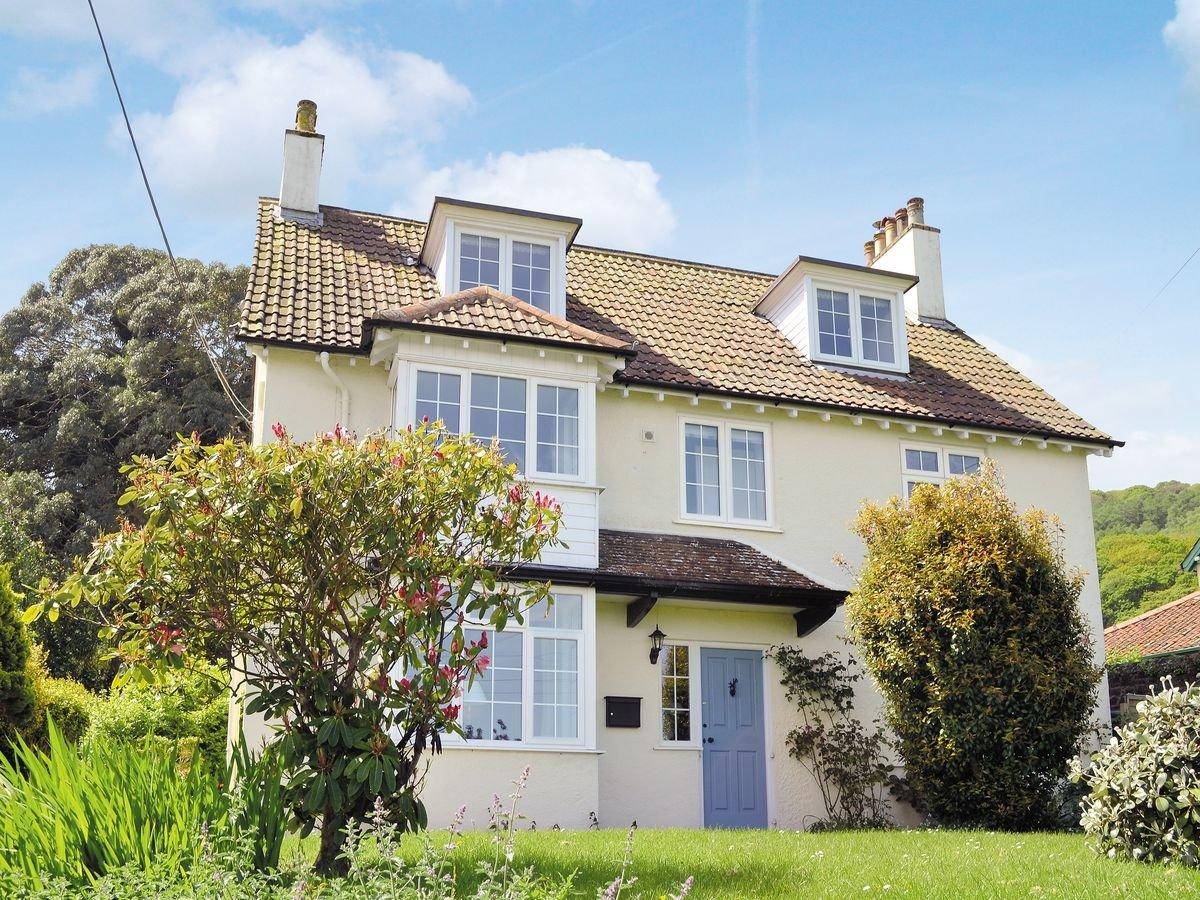 ---
Key
Booked

Colour

Possible arrival days

Available

Best value arrival day
for a 7 night break
7 Guests maximum. Infants don't count toward the number of guests.